Our Handmade Dice Collection
Greetings Traveler! It appears that your journey for the perfect set of D&D Dice has brought you here. DNDDen is the best place for your Dungeons & Dragons (dnd), Vampire the Masquerade, Call of Cthulhu, Arkham Horror, Magic the Gathering, Munchkin, Pathfinder and many more games dice and accessories.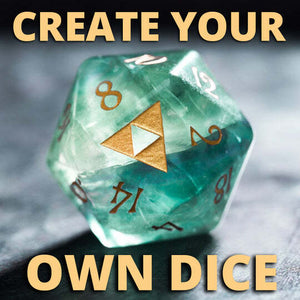 Create Customized Dice!
Personalize your own gorgeous, handcrafted D20 in seconds. Step your campaign up to the next level with your own initials, symbols, graphics, words, sigils or anything else you think should go on a D20! The possibilities are endless!
LET'S DO IT!